Good afternoon! I am officially on Thanksgiving vacation! 9 glorious days off. I plan to fill those days to the utmost. It began this morning with being awoken, in bed, by one of my old college roomies and her 6-month-old daughter smiling at me. This was followed by cuddling on the bed with a bouncing, gummy smile!
Best. Morning. Ever.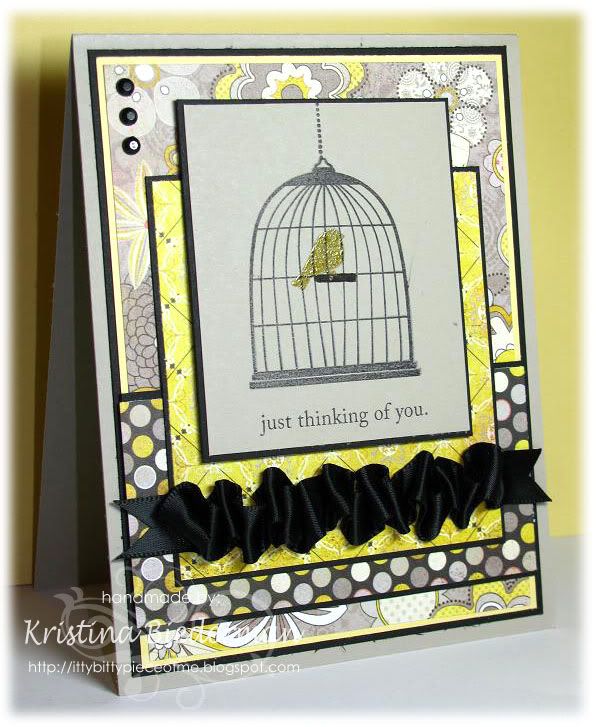 I'm definitely squeezing in some card making, including some quality stamping time with some old co-workers tomorrow afternoon. Monday is Disneyland (and I am SO getting my Happy Birthday pin so that everyone has to say Happy Birthday to me!). Tuesday is my birthday (the roomie and I are totally having donuts for breakfast!) as well as the day my parents and I are flying up to Portland to celebrate Thanksgiving with my sister and her husband's family. Then it's back down here on Friday for some good relaxation, more stamping, and book-reading before school starts back up.
Yup. Be jealous.
I ran to the store to grab a few things for dinner tonight and a turkey to donate at church tomorrow. Man, those birds are heavy! Tonight's dinner? Chicken apple sausage with couscous. Yum!
My card today used this month's
Sketch for You to Try
. Lovin' all those
straight lines again. I stamped the birdcage in black. The bird is stamped in yellow and then clear embossed for a little pop. I pulled out more new dp (Well, new to me! Just when I think I've caught up with dp a whole new line comes out! I can't keep up, lol!) and pulled my colors directly from it. The sentiment is actually from another set, Mat Stack 2 Collection.
Thanks so much for stopping by! Have a wonderful weekend!
Supplies-
Stamps- PTI: Love Birds, Mat Stack 2 Collection
Paper- Sahara Sand, Basic Black, Lemon Tart, Authentique: Blissful dp
Ink- Basic Black, Versamark, Summer Sun
Accessories- ribbon, jewels, clear ep, black marker, dimensionals