Happy Sunday morning! I had the opportunity to sleep in a bit this morning. I'm attending a later service at church today with my roomie and then we're going to hit our favorite Mexican food restraunt for lunch. Yay! It's kind of a last-hurrah-for-the-summer kind of thing.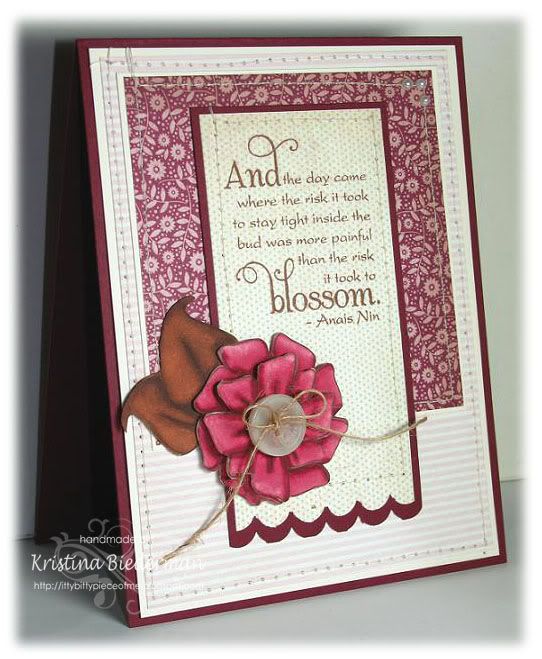 But this morning I have another Viva la Verve card to share with you. Remember how yesterday I said that was my new favorite dp? Well, I lied.
This
is my new favorite dp, lol! Goodness, those pinks, and roses, and browns, and creams. I think I've died and gone to heaven. There's even some black thrown into the dp mix (not on my card, though), for a more French, antique feel. We'll get to those papers another day, I'm sure. :)
The launching point for this card was actually that rose colored floral dp on the square panel. It quite possibly is my favorite paper in the entire paper pad. I just HAD to use it! I put the card together and felt it was missing something (the edges were rather plain), so I added a bunch of straight stitching around every panel. Then, to add just a bit more, some pearls in
one corner to balance out the flower in the opposite corner. The flower was color with my copic markers, and a button and twine finished off the top.
Two challenges down and two more to go! Well, that is before another one is added on Friday. I'd better get busy, lol.
Thanks for stopping by!
Supplies-
Stamps- Verve- Anais Nin PJ, Feel the Sun
Paper- Scarlett Jewel, Vintage Cream, MME Lost & Found- Blush dp
Ink- Close to Cocoa, Memento Rich Cocoa
Accessories- twine, button, copics, pearls, sewing maching, dimensionals, scallop edge punch