Goodness the weeks pass by quickly during the summer! Being August, the official countdown until school begins is officially on. Twenty-one days. How is that possible? Don't get me wrong. I am so excited for the new school year and all of its potential (and amazing new ideas!), but I love me some summer break. And the first graders are
so small
at the beginning of the year.
In the land of exciting news, I broke down and purchased a new desktop computer this week. My "old" computer was about 8 years old and definitely acted 8 years old. Oi. So slow! I kept putting the purchase off thinking that I could deal with a slow computer. But it was torture! It literally took 60 minutes just to download a photo, edit, upload to blogger, and publish. Crazy time waster! I finally threw in the towel and got me a fast, spiffy, and did I mention FAST computer. It's amazing! I click a button and the window instantly pops up. No more waiting 5 minutes, or rebooting because it's so bogged down. Pure speed!
I finally sat down to stamp today and decided to play along with last week's
Retro Sketch
. Yes. I am submitting it at the last moment. Again. Sheesh. One of these days I will get my act together and actually finish the sketch in the first half of the week instead of on the last day.
In other exciting news, I received some gorgeous new dp in the mail a few days ago. I am so in love with a few of the lines! First up was Authentique's new line: Lively. Pinks and reds and browns and greens and oranges (which are the colors of my living room and bedroom!)? Be still my heart!
I pulled out one of my favorite sheets (the floral I used in the background.... Why did I cover this gorgeous paper up?!) and built the card around it. Sigh. I'm in love with this paper. Do they make it in wallpaper? Can you imagine an accent wall in a room? It would be
amazing!
OK. Back on track here.
I took one of the verses from Verve's New Mercies set (love this set, too!), stamped off the branch image, added a scalloped border, and a ribbon/button/twine combo. Sweet, simple, and beautiful. And done. In time. For once.
In other news, there are some great give-aways going on in teacher blogland! Make sure to check out some of these amazing gals!
Angie over at Rulin' the Roost is giving away an amazing gift certificate to Vistaprint!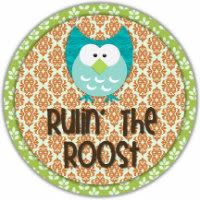 And over at Finally in First, she is having a huge giveaway to celebrate having 2,000 followers! Goodness, that's a lot of people!
Thanks for stopping by!
Supplies-
Stamps- Verve: New Mercies
Paper- Dark Chocolate, Whisper White, Authentique: Lively
Ink- Chocolate chip, Kiwi Kiss
Accessories- ribbon, button, twine, scallop edge punch