Good evening! I'm popping in with a card I whipped up for today's challenge over on
Nichole Heady's blog
. She gave us five sketches to play along with to help celebrate Papertrey's Anniversary (and there are
prizes!
), and after staring and staring at the sketches, finally decided to give this one a go. Mostly, the color purple was speaking to me tonight, and I felt the call of my rustic dots dp, which meant I needed a sketch that would accommodate both. :)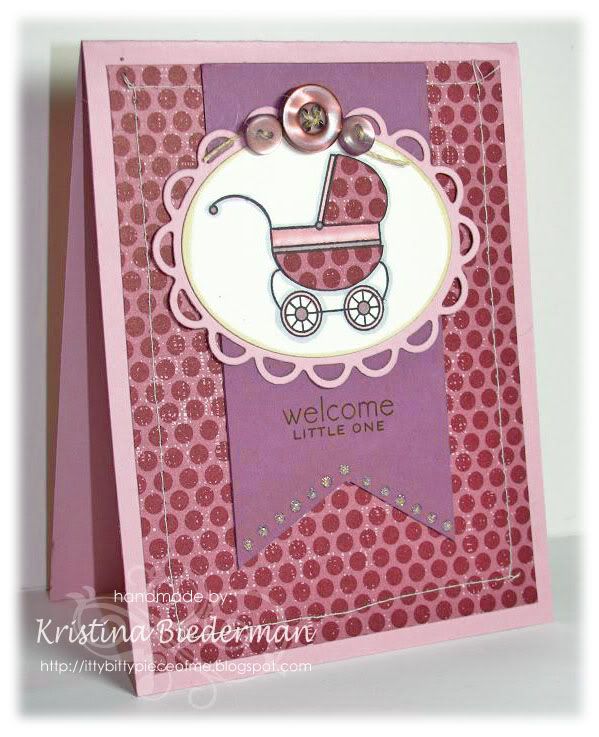 This was a pretty simple card to throw together. Not many layers, only a little bit of embellishing, some stitching, and voila! I used Bitty Baby Blessings and paper pieced the pram, as well as used a few copic markers to be the accent colors. The poor bottom half of my card felt like it was missing out on all of the love, so I added some stickles dots along the bottom of the chevron. The perfect little bit of bling for a baby girl card without drawing too much attention away from the main image. The picture doesn't do the sparkle justice. Oh, and please ignore the wonky stitching along the bottom. I totally spaced on which way my sewing machine feeds (my head is definitely NOT attached to my body these days....) and ended up creating a rather crazy line in the moment of panic when it started feeding the opposite direction that I was anticipating. Sheesh.
I am looking forward to be "all there" again. The last week and one half has been rough in that department. I feel like I have simply been going through the motions, lackluster. Sleep is still tough. I keep having momentary panic attacks when in the "in between phase," between sleep and awake. That's when I remember my grandma is gone... And it stops my heart. I'm panicked. Devastated. Inconsolable. Every time. I have to calm myself, pray, ask for peace so that I can sleep. And then it happens again.... *sigh*
Being awake is, somehow, easier. I find myself praying and talking to God all throughout the day. As a friend. A father. A comfort. Is there a way to pray in my sleep?
Ugh, sorry for the emotion outpouring. Typing it out somehow feels
therapeutic. Cathartic. Have I ever mentioned to you that I process out loud? My poor mom and roomie bear the brunt of this little personality trait. Thanks for being the listening ear tonight.
May the rest of your Friday find you blessed and loved. Thanks for stopping by!
Supplies-
Stamps- PTI: Bitty Baby Blessings
Paper- Lavendar Moon, Vintage Cream, Plum Pudding, Rustic Dots dp
Ink- Memento Tuxedo Black
Accessories- buttons, twine, copic markers, tea dye stains. stickles, sewing machine, nestabilities