Good morning! I have a Viva la Verve card to share with you this morning that uses some brand-spankin' new dp that arrived on my porch Saturday. I love the spring colors in this pack, especially the mix of the teals and pinks. In other words, prepare yourselves for a color rut. :)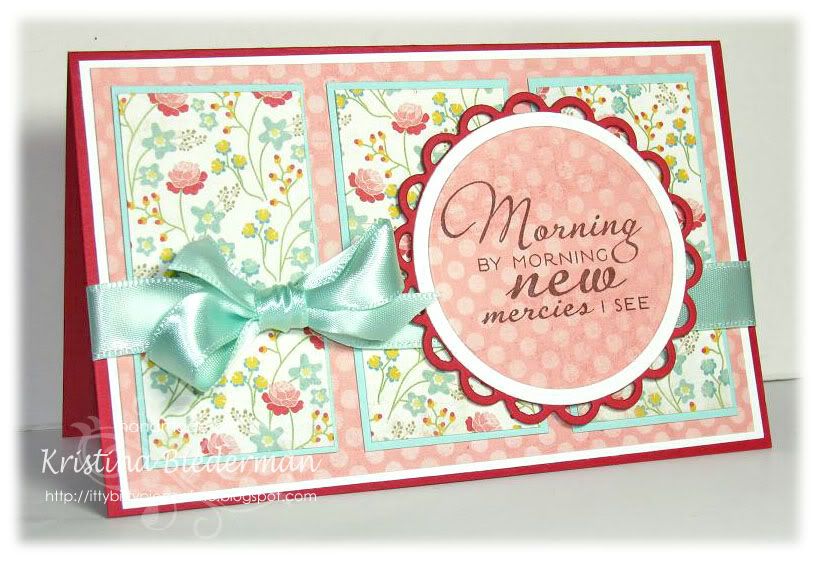 I pulled out my New Mercies set and used it's namesake verse. And I think I sang the hymn the entire time I was making this card... I stamped the lyrics directly onto some pink polka dotted dp, and popped the whole circle up on some dimensionals. A little added ribbon across the middle tied all of the aqua together. I tried adding a little flower or butterfly with the circle, but it just seemed to throw off the balance of the card. So this one ended up being pretty
sweet and simple. And quick!
It's book club night and we're discussing Barbara Kingsolver's
Animal, Vegetable, Miracle
. Kingsolver is usually a hit or miss author for me, so I was pleasantly surprised that I actually enjoyed this book. I am not eating completely green, off of my own land or local farmers, but I do cook a
whole
lot do to some rather tricky food allergies. Reading about her trial, tribulations, and successes of moving from urban Arizona to rural Tennessee was entertaining. Though the book could feel a little "preachy" at times, I found I could move past those moments and just enjoy the story (and this is a non-fiction account of her personal experience). I'm looking forward to finding out our next book (we read one book per month).
Thanks so much for stopping by today!
Supplies-
Stamps- Verve: New Mercies
Paper- Ruby Red, Whisper White, My Mind's Eye Miss Caroline Howdy Doody dp
Ink- Chocolate Chip
Accessories- ribbon, nestabilities, dimensionals