Good morning. It's a Disneyland day here, and I'm heading out a little later this morning to partake of some Disney tension-relief. My roomie is playing there a little later today in Carnation Plaza, and I'm going to support her in the audience as well as have a little unwinding time with good friends and family both before and after.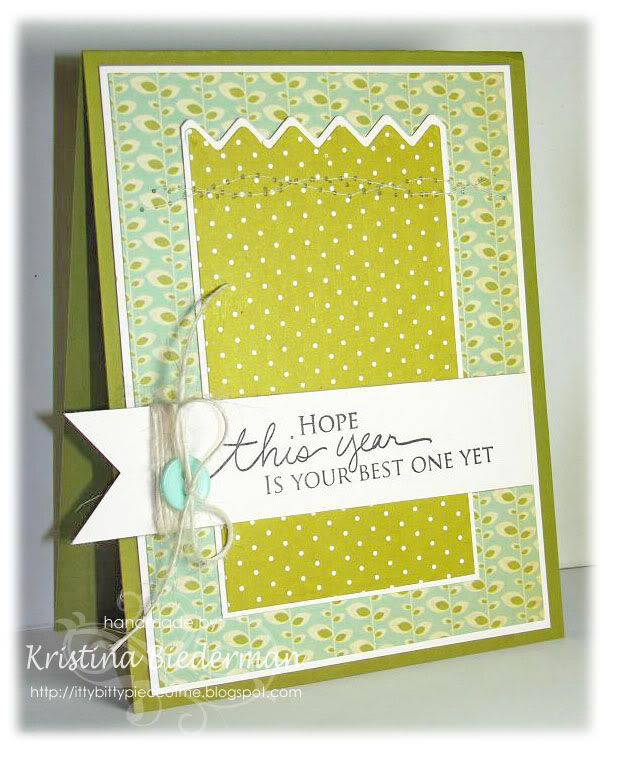 But before I depart, I have this card to share with you. This was another card created last night for yesterday's challenges over on Nichole Heady's blog. I wasn't so sure about this sketch at first... Not a lot to work with. But I ended up loving the minimal work involved! It was a quick and easy card once the dp was picked out. Which, of course, once more is CC Social Club. I can't stop using this paper!
I used an ek success punch for the ridged top (really need to find my pinking shears...), some sewing machine action (first try at the wonky sewing!), and ended up adding a little asymmetrical action to the sentiment. Along with some time and a button because the sentiment felt lonely.
It's supposed to be an overcast, dreary, drizzly day. Love it!
It's the perfect Disneyland weather: It keeps the crowds down. lol
Thanks so much for stopping by!
Supplies-
Stamps- PTI: Signature Greetings
Paper- Ripe Avocado, Vintage Cream, Bitty Dot dp (simple chartreuse), Cosmo Cricket Social Club dp
Ink- Basic Black
Accessories- twine, button, sewing machine, ek success punch