Lindsey over at
The Teacher Wife
is holding what must be one of my favorite linky parties so far! It's all about BOOKS! And even better than that, it's all about our favorite picture books to read in our classrooms. LOVE!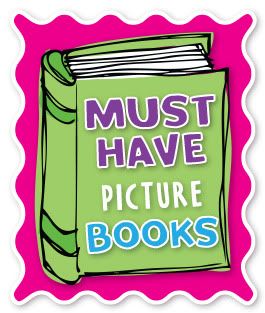 I have a slight addiction to books. Not really a shocker at all, even if you only know me a little bit. I
LOVE
books. I love to read, and the love of reading is one of the most important things I try to instill in my students. Read Aloud is my favorite part of the day. It's also the part of day where I work on building my students' stamina right away. By the end of September, I'm reading aloud for 20-30 minutes every day. I never skip read aloud. I love to animate the characters by doing voices. Getting all dramatic for the intense parts, and frequently crack myself up (while reading!) when something gets silly.
I almost always try to read books that are out for my students to read. I want them to be able to cuddle up with that same book over the next week or two and read it again and again. I love watching them read to each other, trying to make the same voices that I used when I read it aloud. So cute! They are practicing great reading
and they don't even know it!
On that note, is there is a Scholastic Book Orders Anonymous? I'm not ashamed. Shopping through those little magazines each month makes me
so happy!
Here are a few of my absolute favorite picture books:
Always a classic! This book explains in hilarious detail how children should act if they don't want to have any friends. This is the one you read while staring at your little stinker special friend hoping they are taking the message to heart even listening.
I always start the school year off by reading this series. The stories and illustrations are hilarious and the my firsties have just enough school experience to understand the humor.
This is my childhood favorite and I love reading it to the kids to this day.
I love watching my kids synthesize as this story is ready aloud. Their little brains work so hard listening to that pig trick the fox over and over again.
Do I really need to stay anything about this one?! LOVE!
This last one is a little lesser known, but FABULOUS! Another GREAT book for synthesizing. "Ms. B, someone colored in your book!" Or DID they?!


Ah! It was so hard to narrow that down to only six books! This may need to be a monthly linky party so that as each month goes by and I pull out more books and spot more favorites, I can add to my list!
Book-a-holic.
There, I've admitted it.
Admitting is the first step to recovery, right? :)
Thanks for stopping by!